1. Dealing with those driving nerves

Driving tests for most people are a nerve wracking experience.
Even before you arrive at the test centre you may feel your heart racing. It's normal to feel anxious about the test. Have a good night's rest before the test day as being tired can really affect your memory recall and driving.

Make sure you arrive at the test centre early so you have time to compose yourself. Driving examiners are used to seeing people stressed out and are sympathetic to your feelings. Take a few deep breaths before you sit in the car.
Some people worry their minds will go blank in a test, so focus on your breathing as this will help to relax you. Normally nerves usually subside after the test has started.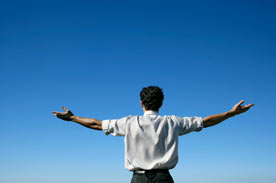 2. Adopt a positive attitude
Learner drivers who have a positive attitude towards their driving test, can increase their chances of performing well.
You need to get into the car thinking of how you will prove to the examiner you can drive well. Remember the times you've driven well in your lessons and keep that frame of mind. Focus on your driving not your nerves.

3. Be aware of other drivers

Remember to look and plan ahead. This means looking at the far distance, the middle distance, the foreground, the sides and rear - So you can build up a picture of what is happening all around you.
Be aware what other drivers are doing and use all your mirrors and respond to what you see.

4. Know your Highway Code

Make sure you understand the Highway Code before you come to the test. It would be a shame to fail your test because you didn't recognise the national speed limit sign and were going too slow.

5. Listen out for instructions

During the test, listen to all the verbal directions given to you by the examiner. Don't be afraid to ask them to repeat an instruction if you're unsure of what they mean.

6. Not all mistakes mean failure

If you make a mistake don't keep dwelling over it as it may take your concentration away from your driving. People often fail because they keep thinking about the fault they've made. The mistake may not result in failure, take a deep breath and concentrate on your driving and what to do next.
You don't want to lose that positive attitude that will help you in performing. Read the
Marking Sheet
so you know what to expect.

7. Be ready for the test

The DSA say those who pass their driving test have had, on average, about 47 hours of professional training combined with 20 hours of private practice. So bear this in mind when thinking of booking your driving test. Your driving instructor will be able to advise you when you're ready. With QDrive Driving School you'll get regular feedback and are carefully monitored via progress charts and driver's record.